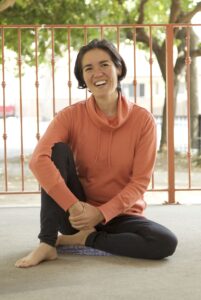 My work is to support you in discovering and uncovering the path from struggle to ease.
For pregnant and postpartum clients, my work is supported by my background as a birth and postpartum doula (2010-2012), and as an instructor of Dancing for Birth™, pregnancy and postpartum yoga, and my own creation, YogaDance Mama (2011-2018).
Emotions, subtle energy and awakening have been integral to my personal and professional healing path since I started Holistic Health Practitioner training in 2007. I am a student and practitioner (since 2015) of the VortexHealing® Divine Energy Healing lineage.
I teach to support self-healing and awakening. Collaborations Shakti Spiritual Health, Dharma Dinners, and Purna have been the major vehicles for my group teachings.
Training & Credentials
Certified Massage Therapist – CAMTC #3428 (2010-present)
VortexHealing® Divine Energy Healing Certified Practitioner (2015 & continuing trainings; Grace level as of May 2021)
Yoga Instructor with specialization in Pregnancy – Laughing Lotus Yoga (200 hour Yoga Teacher Training) and Nine Moons Prenatal Yoga (Level 1 Prenatal Yoga Teacher) (2014)
Dancing for Birth™ Instructor (2011)
Birth and Postpartum Doula Certification with advanced classes – Cornerstone Doula Trainings (2009-2010)
Holistic Health Practitioner, Advanced Massage Therapy and Holistic Massage Therapy programs, with additional trainings in the Energy & Somatic Medicine and Teaching, Training & Coaching programs (over 1,500 hours of training) – World School of Massage and Holistic Healing Arts (2007-2009)
Bachelor of Arts in Psychology – Warren Wilson College and Bryn Mawr College (2002)
®"VortexHealing" is a registered service mark of R. Weinman VH Trust. All rights reserved. Used here with permission. For more information on VortexHealing visit www.vortexhealing.org.