Mama Massage and Intuitive & Energy Healing
Healing options:

Integrative Massage

Intuitive & Energy Healing

Sessions are for:

Pregnancy

Postpartum

Mama Me-Time

Labor-ready

Fertility/Women's Wellness

Anyone ready to heal their blockages and limitations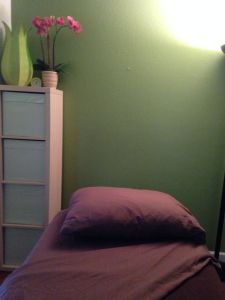 About the healing options:
Integrative Massage

– Customized massage and bodywork tailored to your specific needs, drawing upon modalities including (but not limited to) Acu-touch Lymphatic Massage, traditional relaxation massage, Craniosacral Balancing, Foot (& Hand) Structural Balancing, Chakra Balancing, Pranayama and Yoga.

Intuitive & Energy Healing:
– Golden Heart Alchemical Healing

– My work integrating breath, body- and emotional awareness, and unconditional love to transform pain and suffering into simple loving awareness.


– VortexHealing® Divine Energy Healing – Energy healing with divine light and consciousness, for healing patterns that limit us emotionally, physically and energetically, and for awakening. Learn more at the VortexHealing website.
Sessions are for:
Pregnancy

– Soothe and prevent pregnancy discomforts while supporting hormonal balance and lymphatic flow, for your and baby's physical and emotional well-being.

Postpartum

– Support your healing and adjustment in the weeks and months after birth by improving circulation and lymphatic flow, supporting hormonal and emotional balance, easing pains and taking some quiet time for yourself.

Mama Me-Time

– Ease stress, relieve aches and pains, and just bring some caring attention back to you! Balance all that you give as a mama by receiving nurturing just for you.

Labor-ready

– Support your body in preparing for birth with labor acupressure points, woven into a full-body massage to reduce tensions and anxieties that can hormonally block labor.

Fertility/Women's Wellness

– Nourish the health of your reproductive system with techniques including abdominal massage and reflexology. Beneficial for balancing difficult menstrual cycles as well as for supporting conception.

Anyone ready to heal

their blockages, limitations, and painful patterns. All that's needed is willingness to take responsibility for one's own healing; I can be your guide.

"Megumi is wonderful for prenatal massage! At 38 weeks, it was truly the most relaxing thing. She got out all sorts of knots and tight spots and I felt so much more grounded and peaceful afterward. I went back a few times and for labor-inducing massage, her massage was able to get some mild contractions going. Megumi has a warm, gentle, nurturing personality and really loves what she does. This shows at all levels, and makes the experience even better. Thank you for doing so much to nurture pregnant mamas, Megumi!!" – K., on Yelp
"Everything about the massage was excellent, Megumi was skilled, knowledgeable, supportive, warm, and professional, and I haven't felt my sciatica pain since the massage. Fantastic!" – pregnant mama (anonymous)
More feedback from Compassion Tree Mamas
Sessions at my Fremont studio space or at your home are available by appointment.
Home visits are available in Fremont, Union City, Newark, Hayward, Castro Valley, San Leandro, Oakland and Berkeley.
Contact Megumi to book your sessions at 510-516-0234, megumi@becoming-a-mama.com, or through the web contact form.
Mama Massage, Intuitive & Energy Healing, and Private Yoga Rates
Payment may be by cash, check, or alt currencies bitcoin or bitcoin cash.
Studio Sessions (Fremont):
60 minutes: $95
90 minutes: $125
Home visits (Fremont, Union City, Newark, Hayward, Castro Valley, San Leandro, Oakland & Berkeley):
Add $30 per visit
(Book a partner, family member or friend in the same visit and only pay the home visit fee once for that visit!)
®"VortexHealing" is a registered service mark of Ric Weinman. All rights reserved. Used here with permission. For more information on VortexHealing visit www.vortexhealing.org.