This page is under renovation. Please return soon for my fully updated introduction.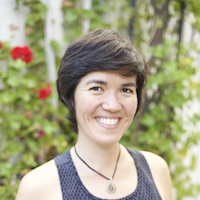 Roots in Holistic Health: My path as a healer started with Holistic Health Practitioner training in 2007. It was this training that inspired me to complete massage/bodywork training and doula training, and eventually to combine these fields to specialize in massage and bodywork for moms.
Foundations in Doula work: Early in my bodywork career, I simultaneously worked for two years as a birth and postpartum doula. These experiences gave me an intimate understanding of the experiences of pregnancy, birth and postpartum.
Movement & Yoga: I added movement to my work with moms when I became a Dancing for Birth(tm) instructor in 2011. In 2013-14, I completed training as a yoga instructor with specialization in pregnancy yoga, through Laughing Lotus Yoga and Nine Moons Prenatal Yoga.
Energy Healing, Emotions & the Awakening Path: My healing work reaches beyond the physical – integrating emotions, subtle energy and the awakening path. I also teach small groups, and in 2014-15, co-led several workshops and retreats for self-healing and awakening through a co-founded project, Shakti Spiritual Health.
Training & credentials
I am certified as a Massage Therapist with specialization in Pregnancy, Postpartum and Fertility Massage (CAMTC #3428), Certified Practitioner of VortexHealing® Divine Energy Healing, Yoga Instructor with specialization in Pregnancy (RYT-200 & Level 1 Prenatal Yoga Teacher), Dancing for Birth instructor, Birth and Postpartum Doula, and Holistic Health Practitioner, and hold a bachelor's degree in psychology. My background includes supporting new families as a birth and postpartum doula, as well as over 1,500 hours of training in holistic health, bodywork, life coaching and leadership.
®"VortexHealing" is a registered service mark of R. Weinman VH Trust. All rights reserved. Used here with permission. For more information on VortexHealing visit www.vortexhealing.org.